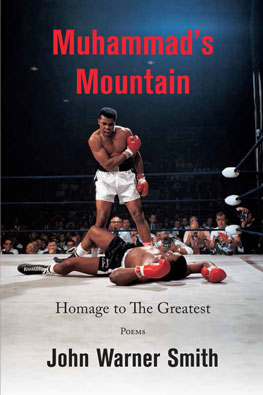 John Warner Smith, you climbed Muhammad's Mountain and brought us with you to see this special view. You opened doors and pushed back curtains. You did good! Muhammad would be proud!
~ Nikki Giovanni

John Warner Smith's new book is brilliant in many ways-- beginning with its concept: a poetic homage to one of the most controversial and important Americans of modern times: Muhammad Ali. Smith's poems are imbued with a knowledge and respect of the sport of which Ali was the self-declared "greatest." Ali's speed, power and grace in the ring come to life in these lines—as do the many opponents who fell, one after the other, before him. But this is no boxing book. The complex—even seemingly contradictory—nature of this towering figure (a warrior for peace, irreverent and religious, cocky and dignified, seemingly invulnerable and, in the end, fragile as a child) is explored poem by poem, carrying with it along the way the sweep of the second half of the American twentieth century.
~ Charles deGravelles
My father is the most written about athlete of all time. But no manuscript has told his story as uniquely and poetically as Muhammad's Mountain. It is a beautifully written contribution to his legacy. Its rhythm and lyrical prose flow like a stream with the elegance in which my father lived his life. Dad would have loved it!
~ Hana Ali